Youtube guitarists that I follow
Publish date: 2022-12-28
I tend to watch a lot of guitarist-oriented Youtube videos as learning guitar is one of my current hobbies. I decided to compile a list of some of my favourites, in no particular order. All are metal and rock oriented.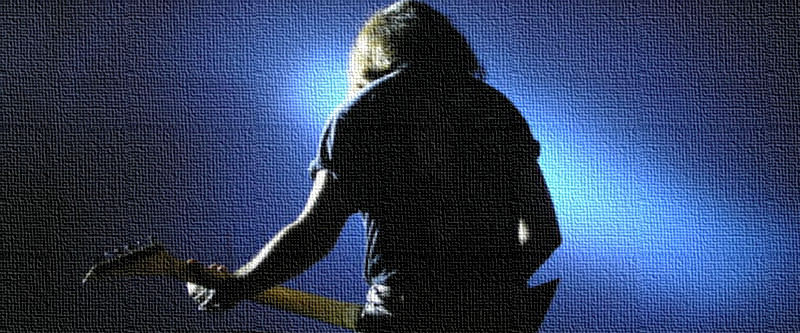 Bernth Brodträger
of
Bernth
Brodträger began playing the guitar when he was a student at the Bundesrealgymnasium . From 2006 to 2007 he attended the Josef Mathias Hauer music school in Wiener Neustadt, where he majored in electric guitar. From 2010 to 2011 he was active as a session/live guitarist for the band Belphegor, with whom he toured Europe, USA, Canada and South America. From 2012 to 2016 he completed his diploma studies in artistic direction, jazz and popular music as well as instrumental pedagogy, jazz and popular music studies at the Vienna Music Institutewith distinction. Since 2015 he has been active as an acoustic and electric guitarist in the studio and on stage with the Austrian band Seiler und Speer. Brodträger originally gained experience as a guitarist in the field of heavy metal music and its subgenres before studying at the Vienna Music Institute opened up a new musical horizon for him.
Watching videos by Bernth can be a bit intimidating as he is super focused and dedicated to his craft.
Justin Sandercoe
of
Justinguitar
Justin Sandercoe is a British musician and guitar teacher who is best known for his popular teaching website, JustinGuitar.com. Sandercoe is a professional musician who has played with various bands and released several albums. He has a degree in music from the University of Sussex, and has been teaching guitar for over 20 years. He is highly regarded for his ability to teach complex concepts in a clear and concise manner, and is known for his patient and supportive teaching style.
Justin had to be on my list because he is one of the first that other guitarists on social media will recommend as far as online lessons go.
Paul Davids
Paul Davids is a guitar player from the Netherlands who is running a YouTube Channel mainly about guitars. He's been playing since he was 13, and received a bachelor's degree in music after studying at the Rotterdam Conservatory. His main goal is to inspire fellow guitar players all over the world and to create and play music.
I enjoy watching Paul go in-depth on many guitar-related topics and he has a very enjoyable demeanour.
Marty Schwartz
of
MartyMusic
Marty Schwartz is a professional guitarist and music educator who is best known for his popular YouTube channel. Schwartz is a self-taught musician who has been playing guitar for over 25 years and has a deep knowledge of various musical styles and techniques. He has a friendly and approachable teaching style and is known for his ability to explain complex concepts in a clear and concise manner.
While not as super talented as others on this list, his videos and attitude are enjoyable and lessons are easier for the new guitarist.
David Wallimann
David Wallimann is a professional guitarist, music educator, and YouTube content creator who is known for his guitar lessons and other musical content on his YouTube channel. He shares guitar lessons, song covers, guitar "secrets" and other musical content with his audience, and is known for his clear and concise teaching style. He is highly regarded by his students and peers for his ability to teach complex concepts in a way that is easy to understand and apply.
He has an entertaining approach to his videos whereby he makes you believe that you are being told some great secret guitar methods.
Jason Stallworth
Jason is a metal guitarist, vocalist, and songwriter who has produced and released 4 solo albums and performs at many small local shows in the Tampa, Florida area. He's also an engaged YouTuber that helps other guitar players excel in their craft. Jason teaches the Metal Guitar Apprentice and Metal Riff Master courses at MetalMastermind.com.
Jason has a very friendly and down-to-earth approach in his videos with a lot of bad puns. He caters to people that enjoy the classic '80s metal guitar sound.
Mike Geronsin
of
TheArtOfGuitar
He has been a dedicated musician since the age of 15 and continues to find new ways of serving the world through music. Mike also practices and studies martial arts. His main two styles are Brazilian Jiu Jitsu and Tae Kwon Do. Mike has been teaching for over 25 years and currently runs a music school, instructs, performs, and records for a living.
His videos always contain interesting stories from his past and experiences he has had with teaching others.
Ola Englund
Ola Englund is a Swedish musician and guitarist best known as the lead guitarist for the Swedish death metal band The Haunted and as the guitarist for the metal band Feared. He is also a solo artist, and has released a number of solo albums Englund is a well-known figure in the guitar community and he has worked as a session musician and played with a number of other bands and artists over the course of his career. In November 2017, he announced the launch of his own guitar brand called Solar Guitars.
It is always interesting to get Ola's take on guitar topics and gear. Another very down-to-earth kind of guy.
Tyler Larson
of
MusicIsWin
Tyler Larson is a guitarist and graduate of the Berklee College of Music who has gained popularity through his YouTube channel where he shares guitar tutorials, gear reviews, and other music-related content. He is known for his versatility and ability to play a wide range of music styles, from rock and metal to jazz and blues. Larson has also released a number of instructional books and resources for guitarists and is widely respected as a guitar teacher and mentor.
His guitar collection is insane and just keeps growing.
Jared Dines
Jared Dines is a musician and YouTuber known for his humorous and energetic approach to music. He has gained a significant following on YouTube and other social media platforms, where he shares videos of himself playing guitar and singing, as well as instructional videos and other content related to music.
He has been making a yearly video called "The Biggest Shred Collab" (which features many Youtube guitarists) for the past few years, of which the most recent can be seen at https://www.youtube.com/watch?v=EkXVwzMCoew
While Jared has not been as active on Youtube lately as others on this list, he still commands a huge following.
Stevie Terreberry
Steve Terreberry is a guitarist and musician who has gained a significant following on YouTube. He is known for his guitar skills and his energetic and extremely quirky personality. Terreberry is known for his ability to play a wide range of music styles, including rock, metal, blues, and more.
Some may think his content is too cringe-worthy and immature, but it is highly entertaining regardless.
Glenn Fricker
of
SpectreSoundStudios
Glenn Fricker is a recording engineer and producer who has worked with a number of musicians and bands over the course of his career. He is known for his work as the owner and operator of Spectre Sound Studios, a recording studio located in Windsor, Ontario, Canada. He is known for his technical expertise and his ability to help musicians achieve high-quality recordings, and has worked with a number of well-known artists and bands.
While not specifically running a guitar-only channel, Glenn is always entertaining and has vast knowledge on all things music recording related (although, he does tend to swear too much if that kind of thing bothers you).
Out of all of these listed, I would say that I watch Jason Stallworth, Mike Geronsin, and Glenn Fricker the most. I am always on the lookout for new content from them.