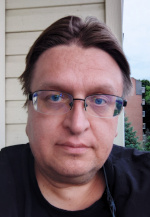 My name is Marko Vidberg and I am a Canadian tech geek. I have been involved with computers since 1985 and the Internet since 1995. I have a wide breadth of knowledge in the computer field, with a university degree in computer science and numerous years of work experience in web development, Linux server administration, programming, database administration, networking, hardware solutions, technical support and consultation. I am fluent in English (reading / writing / speaking) and fully understand Finnish as well (although my reading / speaking is very rusty).

You can find me on
Discord
by the handle "cryptocronic#7690", on Facebook as
markovidberg
, and on Twitter as
mvidberg
.
I am semi-retired and only take on smaller freelance
web projects
. I spend my spare time tinkering with hobby projects, mostly related to things on the Internet or
cryptocurrencies
.
Check out my book!
If you think you have an opportunity for me, please
contact me
! I am interested in the betterment of society and helping others find happiness.